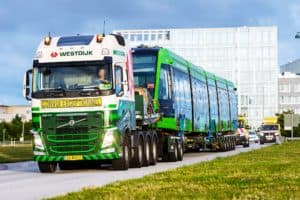 Early on Wednesday morning, the first tram arrived in Lund. Åsa-Hanna is the name of Skånetrafiken's new pride and is 33 meters long and weighs 43 tonnes. She was transported on a 42 meter long specially built truck to Lund.
– Today is a historic day when we will drive the first tram into the depot, says project manager Håkan Henmyr to SVT Nyheter Skåne who is on-site when the tram arrives in Lund.
Now the first tram is in place in Lund.
First of seven carriages
Åsa-Hanna is the first of seven trams and when it arrives at the depot, there are several things that must be tested.
– These are overhead lines, washing and lifts that we have not been able to test before, says Håkan Henmyr at Skånetrafiken.
August 17, it's time to roll out the tram for a test round on the track for the first time.
– Then it will go very slowly to see that it does not take in anywhere and that overhead lines and switches work, says Håkan Henmyr.
See more about the new tram in the clip above!
https://www.svt.se/nyheter/lokalt/skane/har-satts-forsta-sparvagnen-pa-plats-i-lund